About us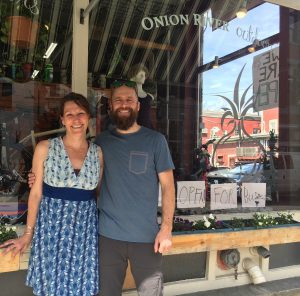 Locally-owned on historic Langdon street in downtown Montpelier - we offer bikes, skis, gear, clothing, and friendly, expert advice for all your hiking, biking, skiing, running, camping, and outdoor adventures!
Employment Opportunities:
Bicycle Mechanic
We seek an energetic, positive, skilled bike mechanic to join our team. Qualified applicants will have a minimum of two years of recent bicycle repair experience, including working knowledge of current bike technology (suspension overhaul service, mountain and road hydraulic disc brake setup and maintenance, wheel-building, etc.). Applicants must be organized, personable, willing to learn, and be able to work efficiently and effectively as a member of a team in a customer-focused environment. While ORO is a strengths-based workplace, building on the expertise of each team member, all staff pitch in to help with any job that needs to be done. Experience working on e-bikes is a plus, as is previous retail work. Our dream candidate for this position would also have ski-tuning experience and be an active promoter of biking on social media.
Schedule is part-time or full-time; some weekends and holidays. To apply, please send a resume and 3 references to [email protected].